I'm missing a few magazines from my collection. There's a list of the ones I need here.
I'm looking for some old Kenwood / Trio, Sheldon Hands Electronics, Wood & Douglas, Elektor and ICOM bits if you can help please?…details below.
Kenwood or Trio TS-900 Service Manual and VFO-900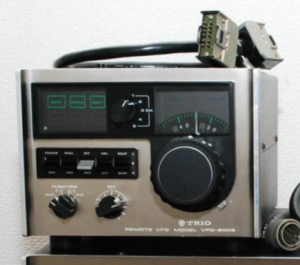 I recently picked up two old Trio TS-900 transceivers from around 1973, complete with matching PSU / speaker.  One works well, the other needs some TLC and, I suspect, some restoration work.  The operators manual, which I have, has a great deal of technical information but the service manual I understand, is twice the size; do you have a digital or hard copy I could borrow or buy?
I'm also looking for the matching separate VFO, Trio VFO-900…it may also be labelled Kenwood VFO-900.  If you have one you'd like to part with, please get in touch.  It should have a matching lead as shown…the UK VFOs have a silver front and are simply Trio VFO-900.
There was also a review in the July 1973 issue of QST which I'd like a decent scan of…the PDF library from the ARRL is low quality.
UPDATE as at 20th January 2020: I now have a hard copy only of the service manual, bought from the USA.  I also have a good PDF of another review from CQ Magazine in February 1975; let me know if you'd like a copy.
Pye Westminster W15FMD on 2m
I have one of these that I picked up from the local radio club.  It has a good, but limited, channel selection however my local repeater on R6 is missing.  I have the transmit crystal but need the receive crystal which is HC6/U and on 45.01666MHz; have you any in a drawer somewhere?
I only have the service manual in a rather scruffy photocopied file.  So, I'm looking for an original one of those too.  It's just a bit of nostalgia 😉
UPDATE as at 3rd October 2018: I now have a copy of the service manual, a crystal and an original power supply.
Hands Electronics: RMX10A – documentation needed / RTX109 LPF and PA boards needed
I have a full set of boards to build the late 1990's Hands Electronics RTX-210, including the chassis; most are unbuilt.  I've also managed to get a copy of the 'DDS.EXE' program needed to change the DDS if anyone needs it.
The design uses an RMX10 receive mixer board which features an SL6440 Gilbert Cell Mixer.  However, I also have a bare board for an RMX10A which uses an SBL-1 style balanced mixer; I've got the matching bits for this too.  What I need is a set of build instructions / documentation for the RMX10A if you have them.
I also have a later Hands Electronics RTX-109 which needs TLC but the original owner kept the PA and LPF board(s).  Can you possibly help with information and or boards for this?
Wood and Douglas…amateur radio from the 70's and 80's
Have you got, lurking in a box, on a shelf, in a file, in your garage or in your loft, any documentation for the old Wood and Douglas amateur products from about 35 years ago?
Any complete, part made or unmade kits and modules would also be welcome…even the PCB's.
They used to make VHF and UHF products in kit form for the radio amateur – receivers, transmitters, synthesisers, amplifiers and even repeater modules.  I'm hoping to build up and archive to post here on line, for everyone to have access to.
Please have a dig around…they sold hundreds of kits.  Drop me a line on the 'CONTACT' page if you can help.
Update as of July 2017: I now have a considerable amount of information to scan and make available, including the early company history.
ELEKTOR 8K RAM + EPROM Card
This is another blast from the past.  I already have one of these, the one in the photo…but I'm looking for a second one to pair up with it for a project.  The article was published way back in September 1980 and I built one for my first computer.  Originally the 8K RAM + EPROM card was designed to go with the Elektor (Elektuur in Europe) SC/MP and Junior projects.  They were 6502 CPU based if I remember correctly, whereas mine was Intel 8085 based…the board worked first time when connected.
Do you have a bare PCB or a well made board that's in great condition? If so, please drop me a line.
ICOM IC-502A and IC-215
I already have an ICOM IC-202S and IC-402…and a slightly weary IC-215.  I'd like to find a nice IC-502A, which I know is rather scarce, and a good IC-215, which nobody seems to want, to complete my collection.
Does anyone have either item that they would like to part with?
Update as at 3rd October 2018: I've managed to find a half decent IC-215 and a tidy IC-502 which had an easy to fix audio fault.  I still would like an IC-502A however.
Please get in touch via the 'CONTACT' page if you do.  Thanks.
Robot 80 SSTV Camera
I was always fascinated by SSTV back in the 1970s and built my own monitor using boards available from Johnny Melvin G3LIV. I sold it to a Morpeth amateur called Ken Wiles in a moment of madness but have now got most of the bits I need to build another…including the 5FP7 cathode ray tube; I have a 7BP7 too.
I could never afford the Robot monitors, cameras and then the scan converter back in the 1970s but most people don't want them any more so they get thrown out or neglected. Recently I picked up a Robot 70 SSTV monitor for the princely sum of just £10, which included a fiver for fuel contribution.
I'd like to find a Robot 80 SSTV camera to go with it if you have one. It really needs to be in good condition and working as far as you know. I can fix faulty ones but some parts are almost impossible to get. Do get in touch if you can help…don't throw them away.